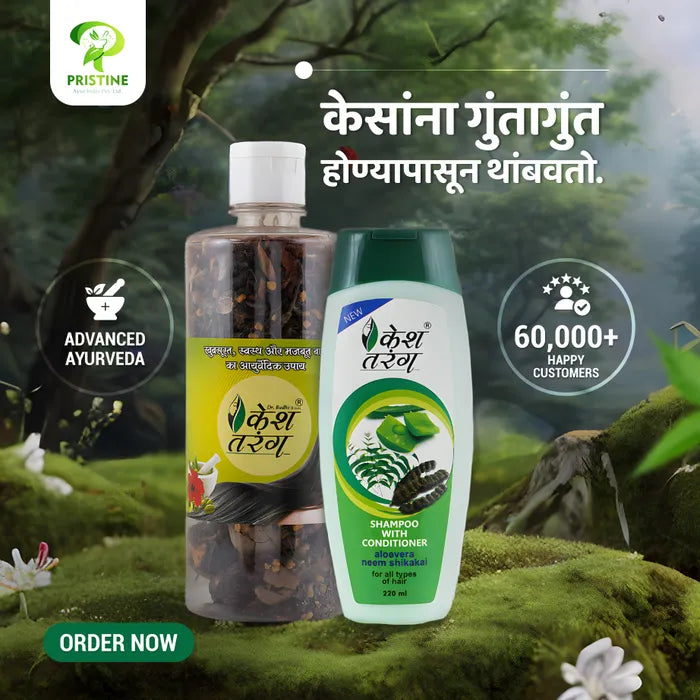 Enlarge photo
Hair Care Combo: Kesh Tarang Hurbs + Kesh Tarang Aloe-neem-Shikekai Shampoo
Share
Are you tired of having dull and lifeless hair?
Do you want to nourish your hair from root to tip? Look no further, as we have the perfect hair care combo for you!
Introducing the Kesh Tarang Herbs 400ml and Kesh Tarang Shampoo. This powerful combo is packed with natural ingredients that will provide your hair with the nutrients it needs to look and feel healthy.
The Kesh Tarang Herbs 400ml is a herbal hair oil that is infused with the goodness of
Amla, Japakusum, Bhringraj, Haritaki, Kapurkavari, Bavchi, Khus, and other herbs.
These ingredients work together to promote hair growth.
Reduce hair fall, and prevent dandruff.
Amla is rich in vitamin C and antioxidants, which help nourish hair follicles and promote hair growth.
Bhringraj helps strengthen hair roots and prevents hair fall. Haritaki is known for its anti-inflammatory properties that soothe the scalp and prevent dandruff.
To complete your hair care routine, use the Kesh Tarang Shampoo. This shampoo is enriched with Aloe, Neem, and Shikakai.
Aloe vera helps moisturize the scalp, prevent itching, and reduce dandruff.
 Neem is known for its antibacterial properties that help cleanse the scalp and prevent infections.
Shikakai helps prevent hair breakage, promotes hair growth, and adds shine to hair.